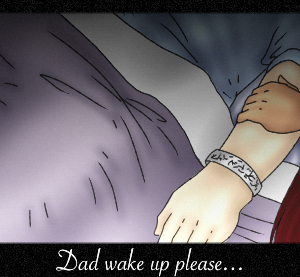 She walked into the hospital front entrance and went to the counter where a nurse stood. "15B Shiruku?" She asked to the woman who nodded and opened the doors for Hitomi to go through. She was alone however she walked to a specific room she was leaning towards. She then knocked lightly before going in. "Dad? Hey daddy, it's me your daughter...it's little Hato..." She spoke out her childhood nickname to the coma induced man in bed. She walked up beside the bed then sat down in a chair near it and sighed out before placing her hand over the man's. "Re-remember? Hato, little dove...the nickname cause my skin was as pale as a dove. I'm not as pale as I once was, so I guess i'm not quite a dove anymore." She laughed a bit getting a little teary eyed.
She was smiling still for a while and then as she was smiling tears begun to fall from her face calmly. "Tatsu is becoming a genin soon, you might miss his graduation ceremony. B-but i'm sure he'd make you proud father...a-and mom, her dresses are even more beautiful and she's selling enough to make means." She stopped for a moment to gulp back and then sighed out once more before carrying on to start shaking a little. "D-dad, w-w-wake up...please I miss you, I love you daddy please wake up...I'm even learning more ijutsu just so I can heal you so I can hear your voice again. So I can see the eyes I share with, the h-hair...the smile...d-dad." She stopped to breath in slightly and started to pour tears from her face as she bit her lower lip and bowed her head to his hand, holding it to her face in a desperate attempt to feel the same proud pat on the head she once had.
She was now crying a bit as she spoke out. "Dad they said you have a few days left...before they pull the plug. B-because they think you've already died in your mind. D-dad, daddy...my father come back to me! I-I wanted to learn so much more from you...I wanted to be with you on so many missions, Even if you can't talk or walk I just want to see that they're wrong...I want you alive so please, move...speak...blink...d-do something please!" She cried out  now shaking a bit more as she held his hand tightly, it was just barely warm. She sniffled for a moment now sobbing to him and seeing he won't move. Some nurses looked in and decided to leave her be to let things out, after all she worked with them and so they knew she wouldn't pull something drastic. Still the sight was hard to take in, rather than the same little girl crying over a broken but proud man, it was the same girl grown and the man was now unable to even awaken.
WC: 486