Name:
Uchiha
Founder:
Indra Ōtsutsuki
Location:
Takigakure/Kusagakure
History:
The Uchiha are descendants of Indra Ōtsutsuki, the elder son of Hagoromo Ōtsutsuki. Through Indra, the Uchiha inherited Hagoromo's "eyes", granting them powerful spiritual energy and chakra. As part of the so-called "Curse of Hatred" first displayed by Indra, Uchiha are subject to powerful emotions: these emotions typically start as love for a friend or family member that then become overpowering hatred when the object of their love is lost. This loss, whether actually experienced or merely threatened, awakens an Uchiha's Sharingan. It is due to the Sharingan that the Uchiha have received much of their fame and notoriety. The Uchiha have been fighting the Senju clan for centuries, a rivalry that traces back to the days of Indra and his younger brother, Asura. When the Sage of Six Paths was dying, he selected Asura as his successor, believing Asura's desire for peace through love was better than Indra's peace through power. Indra, driven by his Curse of Hatred, fought Asura to claim what he believed was his birthright. The Uchiha and Senju, descendants of Indra and Asura respectively, continued their battle through the centuries, though none still remembered this reason for their conflict. There have been many legends and myths about the Uchiha clan. In this day and age, the clan has been scattered. While many have members of the Uchiha bloodline have settled, and made a home in different areas. Various clan members can be found spread across the lands. With the world ravished, and constantly under threat. The Uchiha may find themselves playing an important role. Many sons and daughters of the Uchiha clan have fallen over a period of time. And while the clan may have been on the verge of extinction. Their numbers have once again risen, this time with new loyalties. The world as its known right now is being overrun by vicious creatures. The many changes will certain have an effect on the decision making of others. And the Uchiha clan are no different.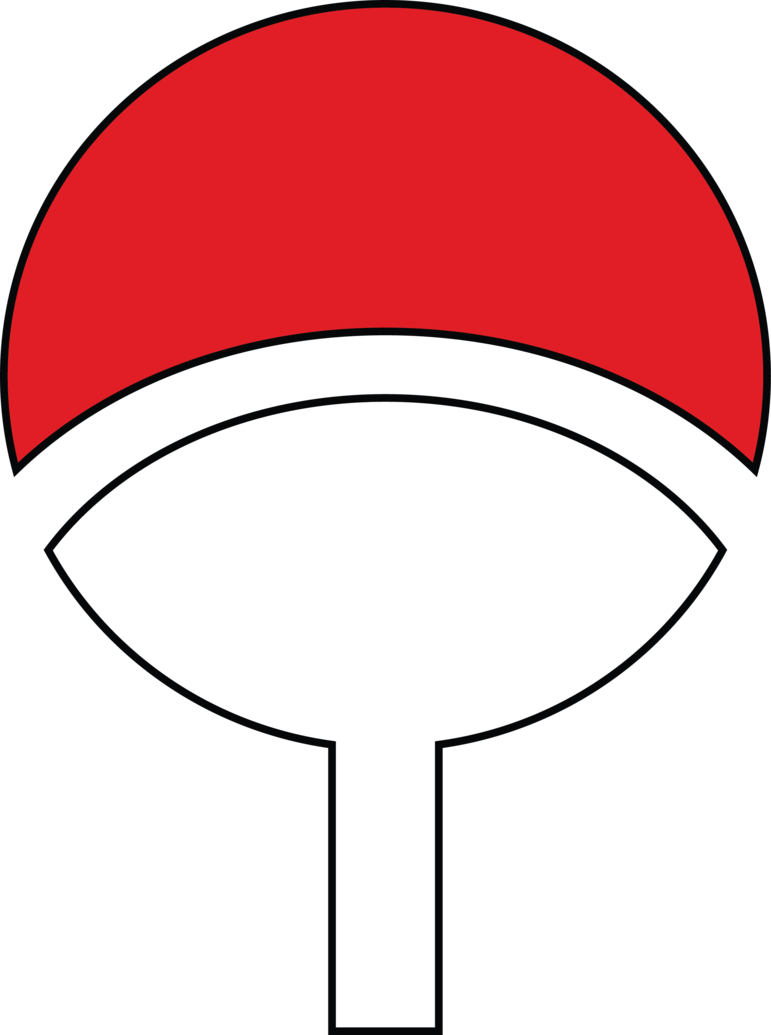 Special characteristics/traits:


Shurikenjutsu→Must have Bukijutsu as a Ninja Specialty. This special characteristic is gained for free as a "focus" area bonus. User benefits from having 2 Focus area bonuses at the cost of one SC slot.

Tomoe 1- 800 Words, Tomoe 2 1200 Words and Tomoe 3 2000 Words Training.

Clan Element:
Katon(Fire Element)
Clan Specialties:


Genjutsu

Bukijutsu

Ninjutsu

Requirements:
Born into the Clan.
Current Members:
Name of the Kekkei Genkai:
Bloodline Name:
Sharingan →Copy Wheel Eye
Bloodline Ability:
The Sharingan (写輪眼, Literally meaning: Copy Wheel Eye, Meaning (Viz): Mirror Wheel Eye) is the dōjutsu kekkei genkai of the Uchiha clan that appears selectively among its members. It is regarded as one of the "Three Great Dōjutsu", the others being the Byakugan and the Rinnegan. While its powers originated from Kaguya Ōtsutsuki's Rinne Sharingan, its independent form was first manifested by Indra Ōtsutsuki[3] (Hagoromo Ōtsutsuki in the anime).
When a wielder of this kekkei genkai experiences a powerful emotional condition with regards to a person precious to them, their brain releases a special form of chakra that affects the optic nerves, transforming the eyes into Sharingan; for that reason the Sharingan is described as an "eye that reflects the heart" (心を写す瞳, Kokoro o utsusu hitomi). Often, as per the Uchiha's so-called "Curse of Hatred", this emotion is a negative one, brought on by stress or loss. The emotion can also be positive, driven by a desire to protect or reunite with a loved one.


The Sharingan grants the wielder two broad abilities: the "Eye of Insight" (洞察眼, Dōsatsugan) and the "Eye of Hypnotism" (催眠眼, Saimingan). Although the abilities are not literally restricted to certain eyes, Madara Uchiha noted that the Sharingan can only be used to its full potential when both eyes are together.Even within these two categories, there may exist several distinct though similar abilities:

The Eye of Insight




Special Characteristic: Sharingan→Tomoe 1
Tier: Tier I
Type: Dojutsu
Description: The user can see chakra, giving it colour in order to distinguish it by its composition and source. Though not as capable in this regard as the Byakugan, it can see chakra through some (but not all) obstructions and detect irregularities in a person's chakra flow, such as those caused by genjutsu influence. +10 to Perception & +10 to Intelligence.
Word Count Requirement: 800 Words





Special Characteristic: Sharingan→Tomoe 2
Tier: Tier II
Type: Dojutsu
Description: The user is granted incredible clarity of perception, enabling them to read lips or mimic something like pencil movements. Sasuke Uchiha's Sharingan was even able to see on a cellular level. In combat, this allows them to see fast-moving objects and, once fully developed, offers some amount of predictive capabilities: they can anticipate an opponent's next move based on the slightest muscle tension in their body and act accordingly to dodge or intercept. They can also read the enemy's hand seals to give them an insight of the performed technique's nature, regardless of the speed of performance, so long as the hands are not physically hidden from view. Although a Sharingan user can see these things, they also need the physical ability to actually act on the visual information. In the anime, it is shown that with advanced enough prowess, via eye contact, the user can even enter target's mind to look through their memories. +20 Perception & +20 Intelligence.
Word Count Requirement: 1200 Words





Special Characteristic: Sharingan→Tomeo 3
Tier: Tier III
Type: Dojutsu
Description: The user is able to copy almost any jutsu they see, memorizing ninjutsu, genjutsu, and taijutsu with near-perfect accuracy. They can then either perform that jutsu or modify it to suit their needs, as when Sasuke Uchiha bases his Lion Combo on Rock Lee's Front Lotus. Again, Sharingan users need the prerequisite abilities before they can mimic a jutsu they have seen, and for that reason they cannot, for example, reproduce kekkei genkai abilities they do not have or nature transformations they haven't learned to perform. +30 Perception & +30 Intelligence.
Word Count Requirement: Tier III - 2000 Words

Side Note: Bonuses such as perception, intelligence does not stack. One Tier simply replaces the other.

Eye of Hypnotism


The user can perform what is generically called Genjutsu: Sharingan. While there are various manifestations and purposes of the ability, the better known one is to, through eye contact, suggest thoughts and actions to a target, coercing them to divulge information or act in a particular way, potentially without the target's awareness. In extreme cases, the Sharingan user can take complete control of the target's body, forcing them to do exactly as the controller wishes; this control is visually indicated by the Sharingan's design appearing in the target's eye. The Uchiha are particularly infamous for using this ability on the Nine-Tails, and in fact can enter its or another tailed beasts' jinchūriki's subconscious to more precisely control the beast's chakra. Multiple targets can be taken control of in this way, though the more divided the user's attention is, the easier it is for targets to escape this control.


While not an ability per say, the Sharingan user can appear as if they are able to "see the future". First, the user must perfectly mimic every move their opponent makes and possibly their thoughts and words through careful observation. Then, they suggest an action to the opponent such as hand seals for a technique that the opponent and Sharingan user already know and copy that. With these things done, the user can complete the action even before the opponent does, possibly using the Sharingan's Genjutsu to confuse or delay them.



Note:Fighting against the Sharingan isn't an easy feat. As a general rule of thumb, if you're able to see the opponent's chest area. Then it is likely that you may be caught in the Sharingan's Genjutsu. Looking away completely, may also prove to be a disadvantage to the opponent. In the Manga/Anime. Might Guy through years of practice, could compete against the Sharingan.
This was due to having battled against Kakashi on multiple occasions. As such, he was able to read Kakashi's movements based on his feet. Staff will not accept such actions as viable. Especially when you haven't ever dealt with a Sharingan wielding opponent In Character. Character history alone will not suffice. Be logical, and use common sense as with anything.




Description:


Can Copy Techniques that are within the scope of the user's Ninja Specialty

Can utilize the Sharingan to cast or dispel Genjutsu.

The Sharingan possesses predictive abilities, where the user can be seen to mimic another person's movements etc.

Weak against sight disrupting techniques. I.E Hidden Mist Technique.
Jutsu:
[
||Name||:
Genjutsu: Sharingan
||Classification||:
Genjutsu
||Rank||:
S-rank
||Cost||:
40
||Upkeep||:
20
||Nature||:
Yin Release
||Type||:
Sight→Ocular
||Range||:
70 Meters
||Hand Seals||:
N/A→Sharingan
||Grasp||:
450
||Targets||:
5
||Description & Trigger||:
Genjutsu: Sharingan broadly refers to a range of genjutsu performed with the Sharingan. It has also been shown to be performed through the Sharingan's higher evolutions: the Mangekyō Sharingan and the Rinnegan. The Genjutsu is
triggered
By establishing eye contact with a target, the Sharingan user locks them within a genjutsu for one of various purposes:
Unconsciousness:
The Sharingan user can lock the opponent(s) in a genjutsu that invokes instantaneous, but temporary unconsciousness. Those whose intelligence that are 150 below the grasp of this technique will fall unconscious for up to 4 posts. 100 below is 3 post, 50 below is two posts. On Par and you may begin to keep the effects at bay, but not necessarily and completely shrug them off.
Extracting Information:
The Sharingan user can use this technique to forcefully extract information from another person. If your intelligence is 200 below the gasp of the Genjutsu, then the user can immediately begin to extract the desired information. 150 below, and it may take a full post. 100 below and it could take up to two posts as the user breaks through the mental barriers set up by the target.
Supplementary Use:
This technique can also be used to relay memories to a target; removing genjutsu placed on the target by others; controlling a target's actions. Members of the Uchiha clan are particularly famous for using their Sharingan to control the Nine-Tails, such that Konoha quickly came to suspect an Uchiha's involvement in the Nine-Tailed Demon Fox's Attack. Sasuke Uchiha is noted to be able to use the technique through his Rinnegan, to trap tailed beasts in a genjutsu with a mere glance. The technique itself can be used as a catalyst for Genjutsu reversal, and reflecting it back onto another.
The illusions created by Genjutsu: Sharingan do not appear to have any trademark form, appearing wildly different between the same functions and even the same users. For example, Sasuke typically uses it to render targets unconscious, yet on the first occasion the target's body is pierced with large feathers, on the second the target is grasped and overwhelmed by a shadowy figure, and on the third the target experiences Sasuke personally stabbing them.
||Name||:
Iatsu Sharingan→Coercion Sharingan
||Classification||:
Genjutsu
||Rank||:
A-rank
||Cost||:
30
||Upkeep||:
15
||Nature||:
Yin Release
||Type||:
Sight→Ocular
||Range||:
50 Meters
||Hand Seals||:
N/A →Sharingan
||Grasp||:
300
||Targets||:
3
||Description & Trigger||:
This Genjutsu is triggered with a single glance of the Sharingan, this technique forces a nightmarish genjutsu on the victim, overpowering them and bringing them to their knees. Even the usually emotionless Sai was deeply affected by this genjutsu. This genjutsu may vary in theme from user to user, who may add their own spin on it. However, the power and purpose of the genjutsu ultimately remains the same.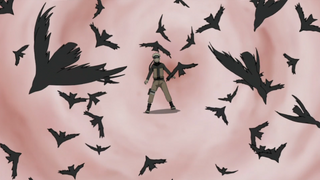 ||Name||:
Magen: Shinkarasu→Demonic Illusion: Mirage Crow
||Classification||:
Genjutsu
||Rank||:
B-rank
||Cost||:
26
||Upkeep||:
14
||Nature||:
Yin Release
||Type||:
Sight→Occular
||Range||:
50 Meters
||Hand Seals||:
N/A →Sharingan
||Grasp||:
300
||Targets||:
3
||Description & Trigger||:
This genjutsu traps a victim in a powerful illusion, with no necessary eye contact; similar to Ephemeral, however, direct eye contact can still be applied when using this technique. When used, the genjutsu projects a torrent of crows, leaving the opponent at the user's mercy. The torrent of crows causes a certain level of distraction. The crows can be used to attack, and are controlled by the will of the user.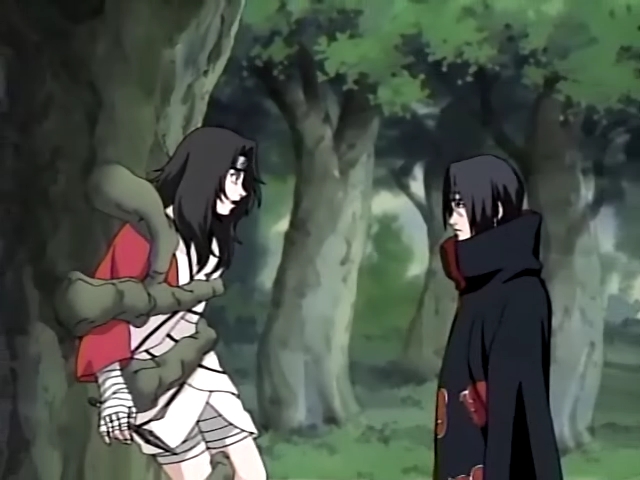 ||Name||:
Demonic Illusion: Mirror Heaven and Earth Change
||Classification||:
Genjutsu
||Rank||:
A-rank
||Cost||:
30
||Upkeep||:
15
||Nature||:
Yin Release
||Type||:
Sight→Ocular
||Range||:
50 Meters
||Hand Seals||:
N/A
||Grasp||:
390
||Targets||:
3
||Description & Trigger||:
The user decrypts a genjutsu that has been applied onto them, and casts back a technique with identical effects onto the opponent. It's a form of illusion reversal, but in order to instantly read through a technique and cast it in return, the Sharingan's power is necessary. As a genjutsu is initially used to confuse the enemy, this technique, which sends it right back to its caster, deals a high amount of mental damage, more than anything else.
||Name||:
Magen: Kasegui no Jutsu→Demonic Illusion: Shackling Stakes Technique
||Classification||:
Genjutsu
||Rank||:
S-rank
||Cost||:
35
||Upkeep||:
15
||Nature||:
Yin Release
||Type||:
Sight→Ocular
||Range||:
40 Meters
||Hand Seals||:
N/A
||Grasp||:
420
||Targets||:
4
||Description||:
Firstly, this technique requires the use of the Genjutsu: Sharingan. The opponent is caught in the illusionary world created by the user, and the victim is tormented with the sensation of having spikes driven through their limbs, taking away their body's freedom. At the same time, the physical pain accompanying the illusion reveals that the greatest use this technique has is torture. As seen when Itachi used it on Orochimaru, it has been proven that one of genjutsu mastery may use the genjutsu even without eye contact.


Last edited by Izanagi on Wed Jun 07, 2017 4:58 pm; edited 3 times in total